"Sprung from cages on Highway 9
Chrome wheeled, fuel injected, and steppin' out over the line"
-Born to Run, Bruce Springsteen
The Journey to Highway 9
Highway 9 Consulting was established in 2014 by company president, Kevin Brady. Kevin founded Highway 9 to help companies develop and deploy the innovative marketing programs that sales teams love.

Kevin started his career working on drilling rigs in the oil and gas industry after graduating with a degree in Geology from Louisiana State University. Kevin earned an MBA in marketing a few years later at the University of Houston, which launched his marketing and sales career. Over the next 15 years, he built and managed sales and marketing teams for both large oil and gas service companies and smaller technology startups.

With an interest in consulting, Kevin began to piece together different software solutions for lead generation and attribution. In the early to mid-2000s he experimented with inbound marketing using forms and calls to action, but it required custom development and coding which proved too costly and cumbersome for many small to mid-size companies. In 2012, Kevin discovered HubSpot during a website rebuild for his employer at the time. Knowing that he had found the missing piece, Kevin started Highway 9 two years later. After initially just working alongside other HubSpot partners, Highway 9 officially joined HubSpot's partner network in 2018. The partner network has been a big contributor to Highway 9's success helping gain credibility and creating differentiation from other marketing agencies.
Where is Highway 9?
When it came to starting the company, the hardest part was selecting a name. After some thought, Kevin settled on Highway 9 Consulting. Highway 9 is a state highway that runs north and south through New Jersey, and goes through the town of Freehold. The town of 35,000 is home to the global musical sensation Bruce Springsteen, who happens to be Kevin's favorite artist.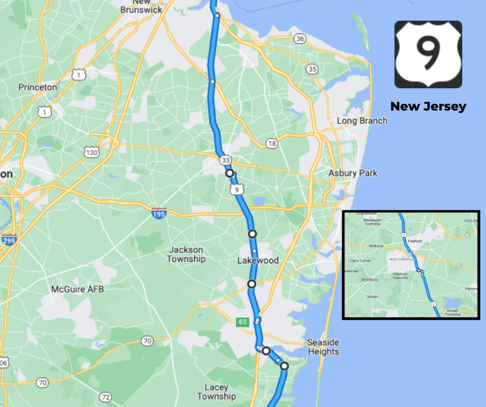 Map of Highway 9 running through Freehold, NJ.
Just as Bruce was inspired by driving the roads near his hometown, Kevin pulled inspiration for Highway 9 while listening to Bruce Springsteen on a road trip. From there, Highway 9 Consulting was born.
How a Unique Name Can Establish Brand Identity
Creating a unique name for your company and products can help establish brand identity. Brand identity is the compilation of elements that make up your company's image and is essential to success in a heavily competitive market. It's what sets you apart from the rest of the options. Your name, logo, mission, voice and values all make up this identity. By establishing a brand identity, you are able to target customers and connect with them at first glance. The right name can be a conversation starter and opens the door to break the ice before talking about business. Connecting with a client through a name sets the stage for a more engaging sales conversation.

To learn more on how to establish a strong brand identity, visit:
https://blog.hubspot.com/agency/develop-brand-identity


Reach Out to Highway 9 Today
Here at Highway 9, we can help you drive more sales through marketing strategy, sales process development and flawless execution. From start to finish, our programs can improve your marketing ROI, efficiency, and productivity.
Contact us today to get started!